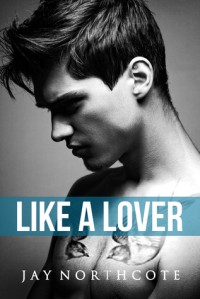 An ARC was provided by the author in exchange for an honest review.
I don't really like rehashing book plots. That's what the blurb is for. And I hate to accidentally give something away and ruin the fun surprises that a reader may get reading the book. I prefer to tell folks how I felt, what I liked and what I didn't like.
There was a lot of sex in this book. And it was pretty hot! But when you have a rich guy paying a rent boy, that's what you are going to get. And in this book more so, because Rupert, and Josh in a way, use that as sort of an excuse to spend time together. So that's primarily what we see when these two get together.
The story is sort of a cliché. A client falls for the rent boy. Wants to be with him and doesn't want him to be with anyone else. But rent boy can't give up his pay. Won't let client support him. So what do they do.
The thing that makes this one different in a way, I think, is the characters. To me they aren't your typical rent boy and his client. Josh is older than the average rent boy at 22 and his outlook on life is more mature than in most books with this premise. He has a solid plan for his life. He's not a down-on-his-luck kid struggling to make ends meet. He shares a house with 5 roommates, all in college. Rupert is only a few years older than Josh. And his financial circumstances were not because of his work. He's a bit shy at first, a bit shocked but Josh turns his crank, so he just can't resist. But he wants more. He falls for Josh almost immediately.
It wasn't a really long book. But it had enough length to get the story out. I liked how the story progressed through as their feelings developed. Yes, the sex scenes got a bit old after a while, but that's when the story took over a bit more, so it evened out in the end.
It was light reading, fun, not a whole lot of angst, which is good. A little drama, but nothing that overpowers the story; just enough to carry the story forward. It was a great read. I loved the characters and it was hard to put this one down and go to bed. :)